First of all, let me just say I have an awesome husband and children. I went to a church activity from 10AM - 1PM on Saturday. Since it was in another part of town, I told my husband I was going to do a little bit of shopping at the mall because Emily recently alerted me to the fact that she has very few pairs of pants to wear and that she is cold. Since she is my oldest, she doesn't receive a whole lot of hand-me-downs. I wasn't all that successful, but I made good use of my time alone and browsed the mall, ate a pretzel, and savored a
Barq's
root beer. When I returned home, the kitchen was a disaster (as I half expected), toys were all over the playroom, and the house didn't look much different than when I left it. I gave my husband three jobs to complete when I was gone. 1) change all the analog clocks to the correct time, 2) vacuum the
HVAC
air filters (They should be replaced but I didn't have new ones.), and 3) wash out the three empty 6 gallon buckets that had been sitting in the yard the past week. Although I was
disappointed
I had dirty dishes to wash, I was happy to see he completed his tasks. Then I went upstairs to change my clothes and get Rachel up from her nap. When I reached the top of the stairs, I nearly fainted when I saw that the hallway and my bedroom were immaculately cleaned!! My husband even took down the princess poster and pictures that had been hanging on our wall since the bedroom switch last January. The kids' room and bathroom were also clean. They just left one hallway with some junk that I am in charge of finding places for. Anyway, it was awesome. I was so impressed that my husband was able to round up the troops for 5 hours of intense cleaning. It was a true lesson in service for them, all to make Mommy happy. And it did make me VERY happy.
That evening we took the kids to McDonald's to reward them for their good cleaning with ice cream cones. While at the shopping plaza we went to go search for some good deals at Kohl's for pants for Emily. Unfortunately there aren't a lot of deals on good pants in the size 7-16 girl's section. I don't like paying more than $10 on a single item of clothing except for dresses. I'm also disappointed in the selection of jeans. I just want some decent denim without all the
bling
, peace signs, skulls and cross bones, and other unnecessary decorations. Of course
Walmart
has some basic Faded Glory selections, but I'm trying to deviate away from my children having an entire wardrobe from
Walmart
. Anyway, I found 2 pairs of black yoga pants at Kohl's for $6.60 each on the clearance rack.
Yay
.
While we were there, I also browsed the holiday dresses. Emily is advancing to a size 8 and I never seem to mind spending money on church dresses since I have 3 more girls to wear them. However, the selection of dresses is often disappointing beyond size 6x. I'm just not ready to dress my little girl like a
hoochee
(nor will I ever dress her like a
hoochee
). My mother never let me wear black dresses as a child or youth. She told me that I would wear enough black as an adult. I didn't understand then, but I understand now. I wish I could still wear a pink dress with a
poofy
mesh lining and sash. I think it would look silly if I wore that to church at age 33. My mom was right. Emily pointed out a dress that I found unattractive. I think she liked the glitter. I told her, "No. That looks
skanky
." Then I wished that I hadn't used that word because I didn't want to have to define it. But then she simply replied, "Yeah, it does smell pretty bad." No definition required.
So I think I am going with this one from Sears.com. I just love online shopping. There's a much better
unskanky
selection.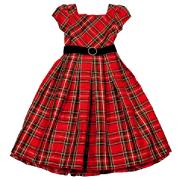 When we arrived home and got out of the car Sarah looked like this. She denied picking her nose. Her denial was unconvincing. I think she dug a little too deep.