Me: I surrender!

Bradley: Mommy, what does surrender mean?

Me: It means to give up.

Emily: Why are you giving up?

Me: I'm giving up because it's simply madness trying to keep a clean house.

Wendy: Why, Mommy?

Me: *sigh*

Wendy: Mommy, why?

Me: Oh...cause you guys are just crazy.

Wendy: Ohhh tay.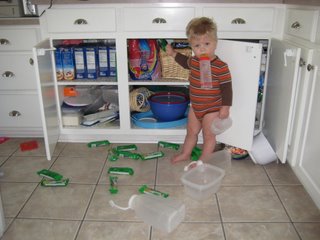 Here is hungry Jason protesting my late start at lunch.