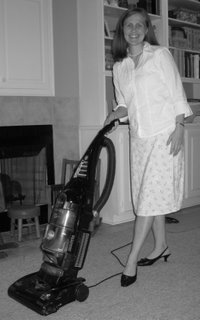 Data Collection (Day 3):
I noticed that when I get dressed I gravitate to the cotton clothes, no wool or polyester. I also don't want to wear anything with a cinched waist or belt. Too uncomfortable. So basically I like to wear sweat dresses.
I tidied the kitchen tool drawer.
I mended clothes and a blanket.
For dinner I made a teriyaki stir-fry with a side of pineapple chunks and a scoop of ice cream for dinner. Emily ate the chicken, but told me she didn't like the "karaoke" sauce.
Today I wore the pumps. I'm thinking the shoes were just a prop for the show because it would've looked silly to have June barefoot. They were uncomfortable and hurt my pinky toes. Although it did make me feel important to hear the clickety-clack on the wood and tile floors, I felt I little too business-like. I think I might prefer to wear some house slippers. When Jason saw me wearing shoes all day, he thought he needed to wear shoes too. I think he was jealous of my clickety-clack.