Some days I just want to give up and request a do-over. Like today when I went to the kitchen to get me a glass of water and stepped in a puddle of melted ice in front of the refigerator while at my feet a 2 1/2 year old begs me to watch Nemo despite the fact that I've told her 8 times that our DVD player is broken. I didn't even know she knew that the movie existed.
And then there is the toddler dumping puzzles in the playroom while the 7 and 4 year old are arguing over who gets to place the upper half of Argentina into the South American puzzle. All the while my insides are churning in regards to the clutter that is acumulating in each room of the house.
There is laundry in my master bedroom. In fact last night I did not sleep well, knowing there was an enormous pile nearly creating a fire hazard in front of the doorway. I actually dreamed that a good friend of mine bought a house in my neighborhood and when I went to check it out, I was extremely jealous of her gigantic laundry room with 4 sets of front loading washers and dryers.
In my living room I have a floor full of size 3-6 month girl clothing that I have to figure out where to put because the dresser in the girl's bedroom is at maximum capacity.
My kitchen is just, well, a kitchen with about 20 linear feet of counter space full of dirty dishes and everything else we try to keep out of an 18 month's old reach even though he can get to it anyway with enough persistance.
I have to think about when I am going to take a moment to feed the 4 month old and how to settle the older kid's dispute of whether to eat pasta or cheese and crackers for lunch.
Ok, so in hindsight it might not seem all that bad. But what's a mother going to do in the middle of a day that is going like this? --- Pour herself a frothy glass of Diet Coke, plop on the couch and read People magazine. There's just no use in trying to redeem the day with anything the slightest bit productive.
I am glad I didn't
totally
give up on the day because I would've missed these moments:
Bradley's self-prepared hot dog.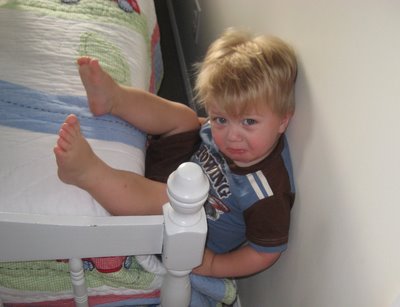 My discovery of why Jason was crying upstairs for 10 minutes.